The cherry tree
One sunny day, when Hannah's room was filled with the aroma of freshly picked cherries, she embarked on a delightful adventure, turning cherries into earrings, art, and math practice, all while sharing the joy of cherries with her neighbors.
One summer day, when Hannah was playing in her room, her father came home with a car full of cherries! That year, the cherry tree in their garden was full, and Hana's father's car was full of sweet and delicious cherries! The car was so full that when Hana's father opened the door, several ripe sweet cherries slipped and fell into the yard!
Hana's parents took the cherries out of the car and put them in the refrigerator! They put the rest of the cherry boxes in the middle of the house to make them think!
Hana, who was quite excited, took one of the tents with her to her room and sat in front of it! Hannah thought to herself:
What can be done with all these cherries?
First, she decided to build a big house by putting cherries together on the room floor! Hana put up a door, window, and chimney for her home sat in the middle, and started playing! Tired of that game, she slept on the floor and put cherries around her body!
When she got up, she saw that the shape of his body was fixed on the floor of the room! Then she took two cherries and put them in her eyes.
Hana's parents were so busy with cherries that they forgot to cook lunch! But Hana washed a plate of cherries and ate instead of lunch! When she was full of cherries, she took two of them and made earrings for himself! Looking at herself in the mirror, she realized she was more beautiful than ever with those cherry earrings!
While Hana was running around the room with her red earrings, her eyes fell on the shrub by the window, and an idea came to her mind! She brought the cherries and hung a cherry from each tree's leaves! The tree was so beautiful that Hannah brought the camera to take a picture of it.
Hana's parents didn't have a plan for those cherries yet, so Hana separated them into bunches and started practicing math with them!
When all her math exercises were over, he brought some bowls and poured the cherries into them! Then she took two of the bowls to her parents so they could eat some cherries too!
Seeing the bowls in Hana's hands, Hana's parents had an idea! They decided to share the cherries among the neighbors! In this way, more people enjoyed the taste of those cherries, and they didn't have to put all those cherries in their small fridge!
Hannah and her parents went to the street and distributed sweet cherries to everyone! The neighbors were excited to see those sweet and juicy cherries! Soon all the neighbors went home and started eating delicious cherries!
When Hannah and her parents were resting in the afternoon, the neighbors came one by one to return the bowls! Each of them had put something in the bowl as a thank you. From chocolate sweets to apples and apricots and many other delicious foods!
Now, Hannah's fridge was full of delicious treats and different summer fruits instead of just cherries!
See More: More than 50 audio stories for kids
Other stories with similar name
The Cherry Tree: A Short Story in the Popular Puffin Chapter-Book Series for Children by Sahitya Akademi Winning Author (1992) Ruskin Bond, illustrated bedtime tale
Rakesh plants a cherry seedling in his garden and watches it grow. As seasons go by, the small tree survives heavy monsoon showers, a hungry goat that eats most of the leaves and a grass cutter who splits it into two with one sweep. At last, on his ninth birthday, Rakesh is rewarded with a miraculous sight-the first pink blossoms of his precious cherry tree!
Click here to buy this amazing book from Amazon.com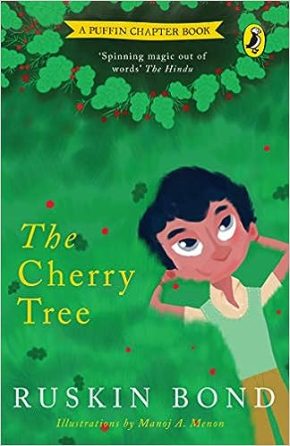 About the author
Born in Kasauli (Himachal Pradesh) in 1934, Ruskin Bond grew up in various places like Jamnagar (Gujarat), Dehradun, New Delhi, and Simla.
He wrote his first novel, The Room on the Roof, when he was just seventeen, and it won the John Llewellyn Rhys Memorial Prize in 1957. Since then, he has written more than five hundred short stories, essays, and shorter novels, some of which can be found in collections like Dust on the Mountains and Classic Ruskin Bond. He has also written over forty books for kids. His writing earned him the Sahitya Akademi Award for English writing in India in 1993, the Padma Shri in 1999, and the Lifetime Achievement Award from the Delhi government in 2012.
He currently lives in Landour, Mussoorie, along with his extended family.